Mold and the Indoor Environment—Protecting Your Offices & Stores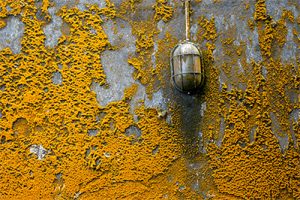 If you're worried about mold in your office, you're not alone.
The Occupational Safety and Health Administration (OSHA) states that mold growth is unavoidable considering that it's a part of the 'natural environment' and can be found everywhere.
Hence, mold infestations are not uncommon in the office. It makes its presence known by disrupting the air quality and healthy environment of your indoor spaces.
As the problem becomes more widespread, you begin noticing a musty smell, structural damage like discolored dry walls, spotting on siding, dampened wood, etc. If left undetected, mold infestations eat away the building and also cause possible health risks that make the building uninhabitable.
Our article highlights common causes and health risks associated with mold in the office along with mold mitigation steps you can take to promote occupational (and employee) safety.
Mold in the Office: Causes and Health Risks
There are thousands, maybe millions of mold spores flying around the country. Each person reacts to mold differently. Due to this, OSHA has not assigned any safety level of mold exposure in indoor areas.
However, what we do know is that it's a grievous health hazard that targets the respiratory tract, triggers allergies, and caused breathing issues. Common symptoms of mold include, tiredness, sore throat, eye irritation, headaches, stuffy nose, coughing, and wheezing.
It's important to adopt a mold mitigation plan before things escalate and all your employees become sick.
What Causes Mold in the Office?
As mentioned earlier, mold and mildew are part of our natural surroundings. The cool, damp, and dark places inside our office buildings and stores are breeding grounds for mold. These areas tend to have high levels of humidity and moisture. The collective environmental factors contribute to rapid mold growth in specific parts of your office buildings.
Common infestation sites include:
Poorly maintained vents, gutters, and drainage systems
Flooded basements or bathrooms
Roof leaks and window leaks
Unclean and sweaty pipelines
Damp walls
Wet foundations
It takes 24-48 hours for mold to become a serious problem in your workplace.
Protecting Your Indoor Environment: How to Prevent Mold in the Office?
The good news is that there are several ways to inhibit mold growth. The idea involves the enforcement of effective maintenance rules. This aims to modify the environmental condition of your workplace.
Here's what you can do:
Conduct a Full Inspection of Your Office
Take a survey of your office, making sure that every nook and cranny of the building gets assessed by an expert. Locate damp spots within your drywall, in the vents, or the overall HVAC system. Monitor environmental elements, including moisture levels, temperature, humidity, etc., to identify main target sites.
Take Steps to Prevent Leaks and Damp Walls
Dampness and high moisture levels remain the biggest cause of mold in the office. Maintaining indoor humidity between 25-60% can keep mold at bay. Additionally, you can increase the surface temperature to mitigate moisture condensation.
Other preventive tips are as follows:
Fix roof leaks and window leaks as soon as possible
Build a slope near the foundation of your buildings to improve your drainage system. The slanted surface can ensure that water from leaks, heavy rainfall, thunderstorms, and melted snow doesn't collect near the foundation.
Prevent dampness and wet spots by placing dryers around the closed ducts/pipes
Use insulated pipes to prevent any form of condensation or moisture build-up
Besides this, implement all structural building codes for the kitchen, bathroom, and common public. Always seek help from a consultant if you are unsure about the specific changes.
Maintain Your HVAC Unit
HVAC (Heating, Ventilation, and Air Conditioning) unit functions as an ideal spot for mold growth. You can turn things around by conducting routine maintenance checks to prevent this from happening.
Here are a few practical steps to ensure your HVAC units are mold-free:
Clean air filters to minimize mold buildup and replace them bi-annually or as often as required.
Install an HVAC mold inhibitor to reduce the potential risk of mold growth
Disinfect and sanitize your HVAC units to eliminate bacterial growth and other microorganisms getting inside.
Ensure that your air ducts remain dry and there are zero traces of moisture build-up inside or outside the HVAC unit.
Moreover, make sure that your HVAC units remain in working condition all year round. You can do this by addressing repairs and fixing broken ducts whenever required.
What can you do about water-damaged sites?
Water damage from leaks and unfavorable weather can lead to mold infestation within two days. You can prevent it from becoming a structural issue by removing excess water as soon as possible. Air-dry salvageable items and replace severely damaged objects to inhibit mold growth. Contact emergency water restoration services to achieve positive outcomes.
The Final Step
In the end, call Restoration 911 to protect your stores and office from a mold invasion. Having their industrial insights and technical skills will allow you to eliminate mold from your workplace in record time. Additionally, they have specialized equipment such as air humidifiers, and vacuums that can remove mold from hard-to-reach places.
We treat moldy buildings and workplaces with care and attention to detail. Trust our certified technicians to get rid of bad odors, stuff rooms, and contaminated cubicles with an individualized mitigation plan.
Call (505) 738-1789 to book a free property inspection today!