Can Wallpapers Catch Fire?
Wallpapers are a great way to add a much-needed dimension and pop of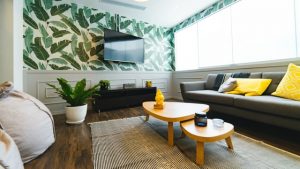 color to your rooms. Not only are they available in various designs, patterns, sizes, shapes, and silhouettes, but you can also pick and choose how and where to stick them.
Moreover, you also get the option of choosing the material they are made of. However, usually, the regular wallpaper in use is made of vinyl.
So with such evident variety of options and versatility, wallpapers add a charm and oomph to empty, lifeless rooms to coordinate and bring everything together with the background, furniture, fittings, and décor. In addition to all these features, vinyl wallpapers are relatively cheap. This allows them to become extremely low maintenance for users and replaceable every so often. So not only can you keep them fresh looking but you can easily clean them too.
However, because wallpapers are such an easy fix for every room in your house, people want to ensure the safety of the material. Not only does acquiring this information help in the longevity of the product but also in keeping the household safe from potential damage and hazards like fire. So the question of the essence here is whether vinyl wallpapers are flammable or not, and the answer to that is no. Most vinyl wallpapers used on an everyday basis in our homes are fire-resistant.
How Is Vinyl Wallpaper Any Better Than Others against Fire Damage?
Nowadays, you can find commercial wallpapers in many different materials. However, the one material that is most commonly used is vinyl. It is breathable and fire-resistant, cheap, and easy to maintain. The wallpapers have a paper substrate that carries the decorative prints coated with acrylic vinyl or polyvinyl chloride (PVC). This gives the wallpaper its breathable quality making it the best option for areas like living areas, hallways, etc.
Even though people are trying to substitute vinyl for more environment-friendly wallpapers made with plant-based materials, cellulose fibers, or synthetic polymers – there are significant drawbacks to it. In addition to them being highly flammable, they are expensive, high-maintenance, and can't even be replaced easily or as often as vinyl wallpapers. Hence, there is a high chance that the wallpaper can cause the fire to spread if a fire is started.
Therefore, concerning environmental safety, vinyl wallpaper carries significant and several advantages over other plant-based material-made wallpapers. For instance, vinyl wallpapers do not use harmful or toxic carbon solvents like turpentine or acetone to create vibrant colors. Instead, water-based manufacturing does the trick. Therefore, it is pretty much a given that vinyl wallpapers do not have any odor or release any toxic fumes in the air. They are considered greatly safe for human lifestyle, health and resistant against potential hazards.
That is why vinyl wallpapers have become a go-to for people who are especially looking to decorate their living space while prioritizing its safety against fire damage. The promise of completely non-flammable material is non-toxic, great to decorate, maintain, and will not be the leading cause of igniting a fire in your house. Therefore, if you are looking to invest in vinyl wallpapers, then these advantages play right into your hand and really should help you make the best of your living space in terms of safety and decoration.
Tips to Keep Your Vinyl Wallpaper Fresh
Following are some tips and tricks that should help you keep your vinyl wallpapers fresh to keep them in the best shape for minimized risk of catching on fire and leading to consequent fire damage and hazard.
Ensure the wallpapers stick properly the first time around.
Take care of edges and corners chipping.
Keep your wallpapers clean so that they don't accumulate dust.
Avoid leveling wallpapers with flammable adhesive near stoves, ovens, or a fireplace.
Try to use naturally printed wallpapers as compared to chemically embossed ones.
Try to use vinyl wallpaper in low-moisture areas like living spaces, hallways, etc.
Lay down vinyl wallpapers as smoothly as possible to avoid air pockets near electrical switches.
Keep them fresh by removing soot if you have wallpaper in the kitchen or near the fireplace.
Bottom Line
All in all, it is safe that vinyl wallpaper, flooring, stickers, or almost any surface adhesive are one of the best ways to decorate and design your living space. With such an amazing variety of colors, design, and ease of maintenance, and to top it off, the material being non-flammable and fire resistant in most cases, it is a great decision to get vinyl wallpapers for different rooms in your house.
Looking for fire restoration ideas and expertise in the East Mountain area? Look no further. We believe that no one should deal with the aftermath of fire alone, as even small fires can lead to greater damage. Hence, our team at 911 Restoration in East Mountain is just a call away from you. When you need repairs and resources after a fire, call one of our agents today at (505) 738-1789.