The Dangers of Fire Damage in East Mountain
About 40 home fires occur in the US every hour, putting home fires at the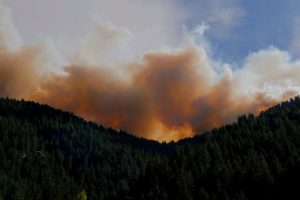 top of the causes of deaths and injuries at home. While these statistics are scary enough, the risk of home fires increases in regions prone to natural fires, such as the East Mountain.
However, certain measures can help you reduce fire risk and prevent fire damage at home no matter where you live. Let's take a look at these measures:
Maintaining Power Cables and Sockets
A large number of home fires begin due to malfunctioning electric cables and sockets. Therefore it is important to regularly inspect and maintain power cables and sockets and repairing or replacing them whenever necessary.
If you have pets and kids at home, you need to be careful about exposed electric cables or sockets. Cover up any exposed cable or socket with non-conductor duct tape if you are experiencing delays in repair. You can also place heavy furniture in front of them. Training your pets and children to not chew or play with cables will also help.
Keeping Appliances Unplugged
Keeping appliances unplugged when not in use can also greatly reduce the risk of fire damage. More often than not, in cases of power fluctuation, people only remember to check up on major electric appliances such as the refrigerator or the air conditioning.
They forget that their washer, dryer, dishwasher, coffee machine, and other appliances are also plugged in. The forgetfulness can lead to these appliances being set on fire and going unnoticed until it's too late.
However, you don't have to remember these appliances if you only make a habit of unplugging them when they are not in use. This habit will help reduce fire risk and also save you money on power bills.
Staying Attentive to Open Flames
Open flame sources such as candles or fireplaces can easily become the source of home fires too. If you need to light them up, ensure that you or another adult at home stay attentive to them or put them out if there's a need to leave the room.
Reducing Flammable Objects
If you cannot deal with constantly lighting up and putting out open sources of fire, consider replacing them with electric flames. Battery-operated candles and electric fireplaces look and function as good as traditional ones while being considerably much safer.
Due to the built-in temperature control technology, home fires from electric fireplaces are less likely to occur. You wouldn't have to worry about leaving kids and pets unattended in their presence too.
Keeping Home Clutter-Free
Keeping home clutter-free can also significantly reduce fire risk. People unintentionally place flammable objects together most of the time, which contributes to the high number of home fires every hour.
However, keeping things organized and stored can be helpful. Your belongings are also less likely to get damaged when they're not in plain sight of potential fires.
Applying a No-Smoking Rule
Most smokers turn off their smoke alarms inside the home and forget to turn them back on. This leads to disabled smoke alarms at home that promote fire damage when a fire breaks out. You can save yourself and your family from such a risk by applying a no-smoking rule in the house.
If a family member is a smoker, let them know that they can only keep the habit outside of the house. Discourage friends or other visitors from smoking inside your space too. If you're a smoker, consider switching to safer alternatives such as vapes or nicotine patches.
Maintaining Smoke Alarms
Smoke alarms cannot do their job if they run out of batteries, begin malfunctioning, or are disabled. To reduce the risk of fire damage at your home, you need to regularly maintain smoke alarms. Consider doing a monthly inspection of smoke alarms on your property.
Also, ensure that there is one smoke alarm on each level of the property and a separate smoke alarm for all rooms that have an increased fire risk, such as kitchen and bedrooms or living areas with fireplaces.
Staying Alert in the Kitchen
More than half of the home fires start in kitchens. If you want to reduce fire risk at home, you need to ensure alertness and attention in the kitchen. Don't leave cooking or heating equipment unattended or turned on when not in use.
Avoid keeping heating appliances plugged in at all times or placed on the kitchen counter when not in use. Keep everything clean as grease from food can contribute to starting home fires. Also, avoid recipes that take long to prepare if your schedule cannot fit being attentive towards them.
Keeping Fire Extinguisher Handy
Keeping a fire extinguisher at home can be greatly helpful in controlling fires. Ensure that the fire extinguisher is near the kitchen and easily accessible. Train all family members to use it safely so that everyone in the family can fight a home fire.
However, accidents can take place despite all precautions. In case a fire breaks out at your home, call an emergency restoration service as soon as you can. Many restoration services, such as the 911 Restoration of East Mountain, provide emergency fire damage restoration and smoke restoration services.