How Smoke Damage Affects a Home
Fire accidents can destroy your home and its contents by causing irreversible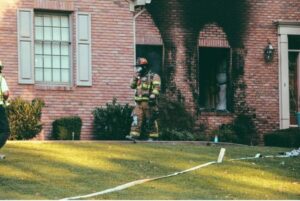 damage. The fire flames can engulf almost every item, burning everything down to ashes. The powerful heat produced by the fire can melt surrounding items and even cause ceramic or glass to shatter. Once the flames have been brought under control, you are left with significant smoke and soot damage.
Unaddressed smoke damage can harm your home and the things in it. Even if the actual fire did not cause harm to you, there are chances that the smoke damage still might. To be affected by smoke damage, you don't even have to be in the same room attacked by the fire. Smoke damage can travel and be a polluting hazard for anyone in the house. 
Even the smallest flames can cause significant smoke damage to your property, affecting the structure of your home. This is the main reason smoke damage restoration is critical.
What exactly is smoke damage?
Smoke damage can be described as being similar to an acid. It can slowly eat away at your possessions if you leave the smoke damage ignored. It can pollute the overall atmosphere of your house on top of making your personal belongings unusable.
How to deal with smoke damage?
It is crucial to act fast in the wake of a fire accident. The best way to go is to hire a professional smoke damage restoration company that can assess your property and evaluate the amount of damage the fire has caused. This helps create a custom mitigation plan to ensure your home is restored to its former glory. A professional smoke damage restoration company can take care of the aftereffects of fire damage and accidents, with smoke and soot damage restoration being the top priority. 
What materials can be salvaged after a fire?
A professional smoke damage specialist can help you determine what possessions need to be replaced, cleaned, or even discarded. Depending on the extent of fire damage, some items may not be in a state to be salvaged. 
All of this also depends on how much money you have on hand to restore your damaged property. Replacing all the items in your house can be incredibly expensive, which is why starting with just the basics is an excellent way to go. 
How can smoke damage affect your property?
One of the most problematic things about smoke damage is that it can store itself in the small cracks of your house structure. This can go undetected for four months leaving an unpleasant smoke order around the house. The only way to get rid of the smoky odor from your property is to go through a deep clean and remove the affected items. Since the smoke particles are so small, they can sneak into the floorboards, carpets, and other items with crevices. This makes them almost undetectable. 
How can a professional smoke damage restoration company help?
Professional smoke damage restoration companies have skilled workers and technicians to care for your property after a fire. After risk assessment and analysis, the professionals clean every surface area where the smoke damage has occurred. With equipment and the latest order neutralizing products, they help get rid of the unpleasant smoke smell that contaminates your property. Other components include:
Bedding and Clothing
With proper commercial cleaning detergent, all bedding and clothing need to be washed to remove any smoke damage effects.
Curtains and Upholstery
Using techniques and special tools designed to remove small smoke particles, the smoke damaged restoration technicians clean all furniture and curtain materials. Due to their training and expertise, they know which tool to use for which item.
Wooden Furniture
Professional smoke damage restoration specialists have the knowledge about the right products to use on wooden furniture. One bad decision can ruin your wood furniture stain and varnish completely destroying the look of the overall product.
Hardwood Floors
Smoke particles can easily enter all the crevices and pores found in hardwood floors. It is crucial to replace the floor entirely or extensively refinish it in order to remove any smoke odor and particles.
Wrapping Up 
When it comes to fire and smoke damage, it is always best to act as soon as possible. Leaving this kind of damage unattended can cross-contaminate the rest of your house as well as cause permanent damage. 
Porous items and synthetic fibers need to be saved within a very short time compared to other things such as flooring and walls. Overall, it is important to reach out to a smoke damage restoration company as soon as possible to restore your property back to normal.
The best course of action is to contact a reliable home restoration company so that their professional team can help you out right away. With 911 Restoration of East Mountain you can mitigate your damaged property and turn it into a home in no time!