Disaster Restoration East Mountain
911 Restoration of East Mountain offers 24/7 emergency disaster restoration services for locations in and around East Mountain.
When there's a basement flooding or ceiling leak emergency, we respond to the call and arrive in 45 minutes. No house flood cleanup or broken water pipe is too difficult for us to handle. 
As a locally owned business, we are well-known as East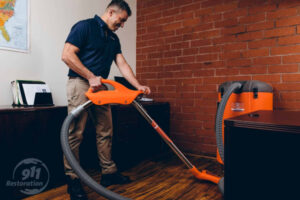 Mountain's disaster restoration experts. We provide timely disaster restoration services that provide peace of mind to customers who have experienced a flood, fire, or other disasters that have caused damage to their commercial or residential properties.
Our East Mountain disaster restoration staff is available at all hours to assist with water damage inspection. This could include basement flooding in your home, emergency mold decontamination, flood cleanup, among other vital services. 
We provide same-day services when disaster strikes. Our team is highly skilled at addressing all types of disaster situations, with mold-related issues being our top specialty at East Mountain. In addition to water damage restoration albuquerque, as well as mold remediation and mold inspection, we also offer assistance with fire and smoke damage to your home or commercial property.
Call us at (505) 738-1789 to provide you storm damage repair and storm restoration in East Mountain, and please allow us to offer you a free visual inspection.
Our team is IICRC certified in full-service renovation and every professional has completed training in the following disaster restoration techniques:
Water damage restoration

Fire restoration

Sewage cleanup

Property sanitization and disinfection

Mold remediation

And more

Mold inspection
Need mold decontamination experts? Experiencing a ceiling leak or fungus that is growing in your commercial property or home? 
Health and safety is our priority. We provide home and commercial
restoration and can thoroughly sanitize your space and provide water damage restoration and mold remediation albuquerque.
Our emergency restoration experts are committed to protecting your property and helping you feel safe during and after a fire, flood, or an unexpected disaster that can cause structural damage and extensive repairs. 
We offer transparency and consistent communication so that you know the service you'll be receiving, as well as all the costs and assistance involved. Our team works hard to anticipate your concerns and provide reliable and trusted advice and solutions. From a free visual inspection to consultation, we make sure you get the support you need for commercial restoration or home restoration.
We understand how overwhelming it can be to navigate a disaster – especially when it threatens your livelihood and property. Don't worry; call 911 Restoration of East Mountain for expert care and disaster restoration services like mold decontamination in your East Mountain home.
The Fastest Emergency Restoration in East Mountain
We care about providing efficient and affordable service for properties in East Mountain. As a trusted name in water cleanup service, you know who to call: 911 remediation. 
Water damage is one of the most common issues affecting homeowners and business owners. This disaster can strike in the middle of the night or at another inconvenienced time. Your incident may involve a winter storm damage that can cause a pipe to burst or a fire hose flood. Water can also seep through carpets and require immediate drying and cleanup remedies. If the problem is not taken care of, long-term mold or other problems may surface. This is why we also handle mold remediation in East Mountain while thoroughly sanitizing surfaces. 
Any moisture that gets into crevices or other areas of your property can lead to serious long-term problems, structural damage, as well as health and safety concerns. Mold decontamination is our priority as well. 
There are several precautions and steps we take to mitigate the effects of long-term problems to your property due to a disaster. A professional can check your home for plumbing leaks or any other hard-to-reach area that could have a hidden leak. 
Keep in mind that even a small leak can lead to thousands of dollars in damages. If the leak is not addressed, you might have another problem due to the moisture that gets left behind. It may have the potential to cause a mold and fungus infestation. We're happy to take a closer look and provide mold inspection and remediation services as well. 
Fortunately, our emergency restoration staff is here for you 24/7. When they arrive on the scene, they work swiftly to remove water and dry your property and conduct mold remediation efforts. This fast response helps minimize your damage, which in turn minimizes your costs.
Call us at (505) 738-1789 and see how we can help you. We provide you hurricane restoration and storm restoration services in East Mountain.
No matter what you've been through, our team is equipped to handle any disaster. We work hard to restore peace of mind while ensuring that we do an exceptional flood cleanup or mold removal in East Mountain and remediation inspection. 
You don't have time to waste…and we know it. For emergency disaster restoration in East Mountain and the surrounding area, call 911 Restoration of East Mountain. We'll be there in 45 minutes or less to take care of your emergency disaster or water damage restoration needs. 
A Fresh Start After Disaster
It can be difficult to pick up the pieces and start fresh after a disaster that has caused so much damage. Our disaster specialists are on a mission to help our customers feel at ease both during and after a disaster.
While disasters are often out of our control, we still have the power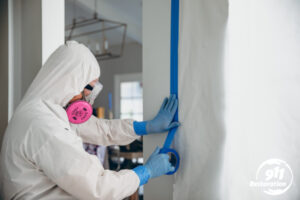 to mitigate, reduce, or repair damages for commercial restoration or residential restoration. At 911 Restoration of East Mountain, we are proponents of the "Fresh Start" philosophy, where we believe every disaster is an opportunity to rebuild and repair properties. 
Aside from flood cleanup, smoke removal, or mold removal in our service areas in East Mountain, our disaster restoration workers are committed to restoring and rebuilding your property and leaving it in an even better condition than it was before through water extraction and other techniques. 
We are determined to make your place a refuge once again. Don't let a disaster dampen your spirits. Our expertly trained disaster restoration workers are here to help you navigate this new journey through extensive structural repairs, mold removal, and flood cleanup in surrounding East Mountain areas, and more.
Our professionals know how to fix complex problems and are happy to provide water extraction solutions that work. They can restore, replace, and repair any material while working on mold inspection to remove unpleasant odors and infestation that cause a problem to your residential property or commercial space. 
We understand there are countless other water removal companies to choose from. We appreciate you placing your trust in our dedicated emergency restoration crews. 
We understand how frustrating it can be when you find out that your home has been hit by a water problem and now also requires mold removal services. 
We work with total transparency and are committed to communicating regularly with you to make sure that we are working within your budget and meeting your restoration and repair goals. 
When you've been through a nightmare, you need a company that can thoroughly inspect and provide transparency about the disaster restoration process. We've worked with countless customers with the goal of restoring a sense of normalcy and peace during a difficult time. Call us at (505) 738-1789 and learn how we can help you.
For residential and commercial disaster restoration, call 911 Restoration of East Mountain Our disaster remediation Moriarty unit at 911 Restoration of East Mountain wants to make sure you're getting the most affordable and high-quality services in the industry.
Serving the communities of Cedar Crest, Chilili, Clines Corners, Dunn Place, Edgewood, Estancia, Manzano, McIntosh, East Mountain, Mounatinair, Sandia Park, Silio, Stanley, Taijque, Tijeras, Willard, Yrisarri and surrounding areas.