Water Damage Restoration East Mountain
Water damage restoration performed by professionals who are homeowners themselves like Doug and Therese Cooper with 911 Restoration of East Mountain are more efficient and performed with a true personal touch.
This is because conglomerates and major corporations can't offer the same level of personal experience, customer care, and understanding that a locally owned and operated business can.
Moriarty has always been a small town community with common values, and that's why Doug and Therese fit in so well. It's also why they provide such a heightened level of customer satisfaction because as Doug says, "in a small town, everyone is your neighbor."
Moriarty was founded by Michael Timothy Moriarty who brought his family to the area while trying to escape the cold winters of Iowa, but found dust storms, drought and even the occasional fire tearing through town in winter's stead.
With the altering of the landscape to introduce reservoirs, indoor plumbing and backyard pools for entertainment, the people of East Mountain have more water damage to worry about than dust storms or fires, and that's why the Coopers are available 24/7/365 for any type of water damage restoration need.
If your home has already gone through a flooding event from a toilet overflow, water heater failure or any other source, then contact Doug and Therese with 911 Restoration of East Mountain today!
Prepare for a Heater Failure and Water Damage
The Coopers have seen everything from floods to fires and all that falls between. With their expansive skill set Doug and Therese get calls regularly for advice on how to prevent disasters in the first place. One of the most common is for a water heater failure.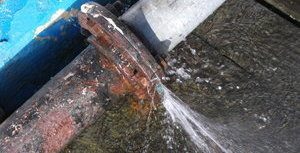 Here are some tips to prevent water damage in your home or business:
Check the hoses on the back of your water heater for wear and tear that may result in a rupture.
Ensure that there is no rusting or corrosion on the water heater itself.
Inspect new water heaters upon installation for bumps and bruises which may mean the integrity has been compromised in transit.
If your water heater does fail, call a professional with 911 Restoration of East Mountain today!
Doug and Therese know that a water heater failure, or any other sort of water damage restoration project isn't something that most people plan for.
On average these types of events only happen once or twice during the lifespan of a home, but when they do they can overwhelm people.
That's why the Coopers go straight to work calming down clients and assuring them that all will be fine once they start doing their extraction work and restoration processes.
"We want to walk people through the entire process so that they are kept completely in the loop at all ends of the project," Doug says. "That's just the standard customer service that we bring to every job we take on."
Water Damage is About Taking Care of People First
"We always put the customer as our number one priority," Therese says "and that's because we understand how difficult these times can be for people."
The Coopers and their three sons who help with the business bring a family touch to every project they take on. From standard water damage restoration work to cleaning up debris from a ransacked daycare, Doug and Therese have seen it all, and fixed it all too.
Water damage is a regular menace from all different sources, even sewage backup issues and water heater failures can cause serious chaos in a home.
But no matter what, the first priority for Doug and Therese on every job is to make sure that the customer is aware of what has occurred, and what they will be doing to fix it.
"This way the customer is informed every step of the way," Doug says, "and that allows for a greater level of trust, so we can get right to work taking care of their home and their belongings."
Establishing a solid level of trust is critical for every project the Coopers take on, but that's really only the beginning of their extraordinary skill set.
Doug and Therese are completely IICRC certified and fully trained in everything necessary for total home restoration work.
If you need the best there is in the water damage restoration business, then contact Doug, Therese, and the water damage Moriarty team with 911 Restoration of East Mountain today!