Water Damage in East Mountain
Weather Alert: If you are experiencing weather-related damage from the storm, call us today for emergency assistance!
911 Restoration of East Mountain
The largely rural area of East Mountain attracts property owners thanks to affordability and proximity to Albuquerque, not to mention the epic natural scenery. Unfortunately, its cooler climate and wide open spaces mean properties are more vulnerable to the elements.
When you own property in the East Mountain area, harsh weather can lead to water damage. Whether it's from an appliance malfunction or a rain storm, water erodes your building materials and causes mold to grow inside your property. When water damage disrupts your home or business, it affects the wellbeing of your building and its inhabitants. As the property owner, you worry that repairs could be daunting, time consuming, and expensive. 
Don't let water damage take over your life. Call our IICRC-certified experts at 911 Restoration of East Mountain for commercial or residential repairs, 24/7/365 days a year. We'll even have a professional at your door within 45 minutes or less. Contact us for same-day service in Cedar Crest, Edgewood, Moriarty, and the surrounding areas. Call us at (505) 738-1789 and allow us to offer you a free visual inspection.

At 911 Restoration of East Mountain, we offer a Fresh Start with our comprehensive selection of property damage restoration services, including but not limited to:
Whether you're a East Mountain homeowner or business owner, 911 Restoration of East Mountain is your Fresh Start! We'll communicate with you throughout the entire process, help answer questions related to insurance, and restore your property to its pre-damaged condition. One of our IICRC-certified teams is dispatched within 45 minutes of your call! Contact us today, and one of our friendly representatives will assist you in finding the nearest East Mountain location.
Felicia Lee
"911 Restoration completed some work in my house doing some amazing tile work on the entryway to my home. The carpets were also cleaned and repaired. The owner, Doug Cooper, was professional and friendly and the price he quoted was an amazing deal for the work done. Thank you 911 Restoration!!!"
Water Damage Restoration
When a frozen pipe bursts in the middle of the night and you need water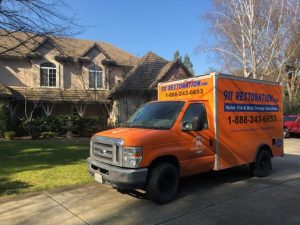 extraction, we'll have a trained staff member at your door to handle flood clean up, leak repair, and more. When snow runoff trickles down inside your roof and gets under your floors, our knowledgeable team will stop the leak, remove damaged materials, and provide a thorough mold removal.
No matter what type of emergency your property experiences, our water damage restoration albuquerque starts with a thorough inspection. After we identify the source of the problem, we remove any unwanted moisture before thoroughly drying your property. We also treat mold and test the structural integrity of your property.
When you need any type of property repair, from water damage to fire damage restoration, call our East Mountain branch today at (505) 738-1789.
Service area map
Sanitization Services and Disinfection Solutions
The global pandemic caused by COVID-19 has been a stressful, challenging time for property owners everywhere. In East Mountain, our staff of restoration professionals is here to ensure your property's cleanliness and safety. Whether you own a home or business, we offer sanitization services and disinfection solutions. 
Every member of our staff adheres to strict industry guidelines during disinfection of your property, including wearing masks and gloves, and using only EPA-approved cleaning products. 
If you own commercial property, you can rest assured the health and safety of our customers matters to us as much as it does you. We also provide homeowners with professional cleaning services after mold removal, fire damage restoration, or any kind of emergency.
For disinfection solutions you can trust, contact us today.
Mold Removal
When water enters your home or business, mold can grow in less than a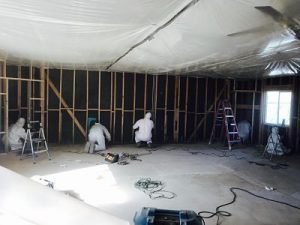 day. Because it thrives in the dark and spreads quickly, mold is difficult to detect. By the time you notice a musty smell or experience health issues like chronic allergies, the problem could be worse than you realize. 
No matter what kind of property you own, mold is a threat. It eats away wood and drywall, threatens the structural integrity of your property, and poses serious health risks for your buildings' inhabitants. 
When you need safe, effective mold remediation albuquerque, trust our experts at 911 Restoration of East Mountain. After a professional inspection, we remove and repair infested materials, then dry and dehumidify your property. We also clean and disinfect the area to ensure it's safe and mold-free.
After water damage affects your property, don't let mold add to your stress. Call one of our agents at 911 Restoration today for mold remediation at (505) 738-1789.
Sewage Backup Cleanup
When a pipe bursts or a septic tank or toilet overflows, it does more than cause water damage inside your property. Dirty waste water is hazardous for you and your building's inhabitants. Cleanup should always be handled by a professional.
When you need sewage backup cleanup, our friendly staff will be at your property within 45 minutes or less to mitigate the damage. After stopping the problem from getting worse, we remove hazardous material safely, before drying and disinfecting the entire area. We also find the source of the leak or overflow, so there's no need to call a plumber.
For safe sewage backup cleanup in East Mountain, call us any time.
Fire and Smoke Damage Restoration
No property owner should have to deal with the aftermath of fire alone. Even small fires
can do large amounts of damage to your property, like puff back after boiler combustion. 
When your East Mountain property experiences a fire and you need puff back cleanup, soot removal, smoke remediation, or any kind of water and fire restoration albuquerque nm, trust our professionals at 911 Restoration. 
In addition to full-service fire damage restoration, we're here to offer support, whether it's handling inventory or lost itemization, packing and storing undamaged items, or finding a fire information center for you. 
When you need repairs and resources after a fire, call one of our agents today at (505) 738-1789.
Disaster Restoration
In addition to fire damage restoration or sewage backup cleanup, we offer emergency disaster restoration. This includes services like boarding up your home or business before a storm. We also work with all insurance companies, and offer free insurance consultations. Even if this is your first time navigating a disaster as a property owner, we have over 30 years of experience with all kinds of situations and buildings. This allows us to get you the most money from your insurance claim after disaster strikes. 
When you need assistance with your East Mountain property before or after a disaster, we'll answer your call, any time of day or night.
Commercial Restoration
At 911 Restoration, we understand a lot of work goes into owning commercial property. All of our branches are locally owned and operated, so we understand the needs of business owners in your area. Whether you have a large warehouse or small, local business, you need a repairs company that can save you time and money. The last thing you want after an accident or emergency is restoration to derail your business even further.
At 911 Restoration of East Mountain, we provide commercial restoration for property owners in Cedar Crest, Edgewood, Moriarty, and the surrounding areas. Whether you own one building or several, we're ready to tackle your commercial restoration. Call commercial mold control near me to get started today at (505) 738-1789.
Serving the communities of Cedar Crest, Chilili, Clines Corners, Dunn Place, Edgewood, Estancia, Manzano, McIntosh, East Mountain, Mounatinair, Sandia Park, Silio, Stanley, Taijque, Tijeras, Willard, Yrisarri and surrounding areas.