Mold Removal Edgewood
911 Restoration of East Mountain will be there for you when you need mold removal services in the Edgewood area. We pride ourselves on being the fresh start that people need in their life, so count on us to help you.
Available 24/7/365.
45-minute response time.
Help from a licensed, bonded, and insured team.
We work with all insurance companies.
Affordable pricing.
Mold decontamination is tricky business, so you need a group of professionals at your side to get you through the days that you need help breathing easily. You will get a renewed tomorrow that is free of mold and the worries that they bring.
For the expert aid of a team you can count on, call our mold removal Edgewood team with 911 Restoration of East Mountain and we can help  today!
Clean Your Roof to Avoid Attic Mold
All a mold infestation needs to grow is dead organic material and moisture. Therefore, if rain does not drain properly off of your roof, then it can seep into insulation and subfloors surrounding your attic.
Some things to remember:
And with your attic dusty and filled with old memorabilia, woodenframes, boxes, clothes, etc.., there is a lot of room for mold to grow.
Therefore, once a year, after fall, scoop out the organic material from your roof.
With clean gutters the water will be able to run off into the downspout.
This can be made easier if you install gutter guards.
They are wired mesh that filters out large pieces of detritus, thus allowing only small bits in.
The smaller pieces will not cause any blockages, so you are fine on that front.
However, keeping your roof clear means that there may occur an error somewhere else, and that is down where your crawlspaces may be found.
Checks to see that your downspout is perpendicular with your wall, and that water clears further enough from the base as to not swamp your crawlspace or foundation.
If during your inspection and maintenance you find mold, give our mold removal Edgewood team with 911 Restoration of East Mountain a call and let us help today!
Decontaminating and Removing Mold
Our mold removal team at 911 Restoration of East Mountain can be trusted to rid your home of the mold. We utilize the most sophisticated techniques and advanced technologies to eliminate infestations and fix their underlying cause.
We value and respect your ability to breathe and live comfortably in your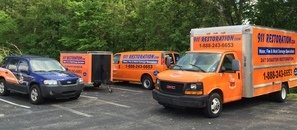 home, so trust in our IICRC certified team to get you through the hump. When you contact us you are entitled to a free visual mold infestation. In doing so, we will check to see, where the underlying cause of the damage exists.
After finding it, we then barricade the area. It is important that no mold spores get out to prevent future infestations. We always wear hazmat suits because we do not want to become infested with mold spores. But don't worry because our licensed, bonded, and insured team will set up air scrubbers in your home in order to prevent you from breathing it in.
It is dependent on your peace of mind that every breath you take is reliable and joyful. And that is what the fresh start is all about. Thus, count on us to eliminate every fungi spore that exists. After we decontaminate the space using sanitizing chemical, that are safe for you and the environment, we replace all moldy material with clean and new substances.
If you are in needs of this level of expert service, give our mold removal Edgewood team with 911 Restoration of East Mountain a call, and we can give you back your peace of mind today!