Mold Removal Cedar Crest
Our mold removal Cedar Crest team with 911 Restoration of East Mountain is here for you in regards to any type of fungal infestation plaguing your home. We value you as a client, and we promise to do a job that will guarantee that safety of your family for years.
Count on them to explain to you the extent of infestation and the process of restoration every step of the way. Things will get better when you contact us as you get:
A response for a project manager within 45 minutes
And you get help 24/7/365.
Same Day service
Always put the customer first
Dedicated to professionalism
Latest drying technology
Advanced suction equipment
The elite technicians that make up 911 Restoration of East Mountain are IICRC certified, as to bring you the peace of mind you deserve. As professionals, they cater to your home and the emotional side you are facing.
If your home is starting to smell a bit musty, then you probably have some sort of a fungus infestation that needs the professional help of our mold removal Cedar Crest team with 911 Restoration of East Mountain today!
Mold May Happen to You Too
Cedar crest has an annual average humidity of about 74%. Mold only needs a humidity level of 70% to activate. Therefore, there is a lot of room for a mold infestation to start festering.
Remember these key points:
It is best to practice a small degree of proactivity to combat a fungal infestation from taking over your home.
And if you experienced water damage in the last year, be on the lookout for mold.
Now, the most likely places you will encounter mold is your bathroom, attic, and basement.
Therefore, clean these areas regularly. Standing dust can be a quick catalyst to mold due to its organic composition.
A quick sweep and mixing some sanitizer into your mopping solution can help get things aid in combating mold.
Providing additional ventilation to at risk areas, such as bathrooms, will decrease the mold presence in those areas.
The type of mold that you interact with on a day to day basis is of some concern to your health. If you are an immunologically compromised individual, then it is worthwhile to have your home inspected and for an air quality test to be done.
If you have flue like symptoms such as: headaches, runny nose, irritated eyes, and respiratory ailments, call 911 Restoration of East Mountain for your free visual mold inspection. We can confirm if the mold you are facing needs the attention of our mold removal Cedar Crest team.
Certified Mold Decontamination
The mold removal and decontamination team at 911 Restoration of East Mountain wants to provide the Cedar Crest community with the most impeccable service presently available. We value every breath that you take, so we do everything for you in order to ensure that breath is fresh.
When we show up on the scene we begin decontamination by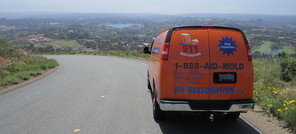 quarantining the area.
We set up a barrier consisting of antibacterial plastic, as to eliminate the chance of loose spores planting themselves elsewhere. Following that we set up some air scrubbers with one in-line vent and one out-line vent.
This allows us to filter further spores, remove stale air, all while bringing clean air out.
All this is pivotal to getting you back your peace of mind, and to ensure no future growth is possible.
The last step we take is reconstruction. We replace every item removed, with new sterile building substances that are meant to last. When we are done, everything will be better than ever.
If your property has spots of black fuzzy material on the walls, you may have a fungus problem, and you should contact our mold removal Cedar Crest team with 911 Restoration of East Mountain today!